Built with the knife nut in mind, the Benchmade Autocrat features a double action blade. The S30V spear point blade comes out lightning fast and the lock up is fantastic. Throw in a comfortable, high quality G-10 handle and you have an out the front knife that competes with the big boys on the market.
BLADE
The spear point blade measures 3.71" which gives you a full sized blade with TWO sharp edge's. The spear point shape gives it an extra strong point and allows for maximum control. The blade excels at piercing cuts and does very well with slicing cuts. A common drawback of a spear point shaped blade is they often have a very small belly—which gives them a small cutting edge. Benchmade has solved this issue by creating a modified shape that has an extended belly or cutting edge. In fact, you have around 2" of cutting edge before the blade begins to curve toward the tip.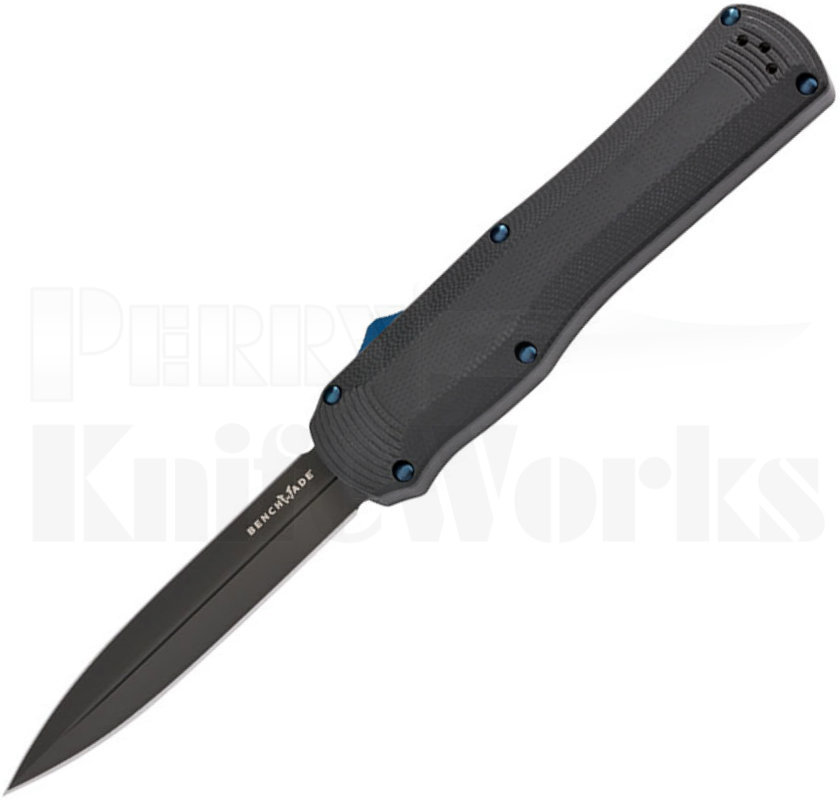 Because the blade is built of S30V, you have a blade that takes a razor sharp edge and keeps it under heavy use. It also gives you great corrosion resistance. The blade features a fuller's groove down the middle that gives a nice look. The front of the blade has the Benchmade logo and the back has S30V as well as USA on it.
One of the things you should appreciate about this OTF knife is that it opens with relative ease. Many OTF's have extremely tight slide triggers that function as a blade safety because they are extra stiff. The slide trigger on the Autocrat strikes just the right balance so that it isn't particularly stiff to fire, but it is enough to keep you from accidentally firing. Blade speed is very fast. Lock up is extremely tight.
You can pick this OTF knife up with either a black finish or a standard satin finish.
HANDLE
The handle is built from top quality American G-10. It has a basic "tombstone" shape with a slight bend in the middle of the handle that offers some extra leverage when holding the knife in a classic forward grip. This is a comfortable, no nonsense handle that is plenty large enough for even the biggest of hands. A tip down pocket clip sits on the back handle scale. It is right/left reversible.
OVERALL IMPRESSION
Benchmade Autocrat knives are manufactured here in the US, these knives are built from high quality materials to the specifications and standards that you expect from any Benchmade product. The Autocrat is no exception. Built tough from high end materials, this OTF is ready for heavy use in tough conditions. Perfect for the combat soldier, this handy knife is also great for our LEO experts who often need a tactical knife that can easily be used with one hand. If you demand the very best, if you work in a job where the utility and performance of your gear can be tied directly to the difference between life and death—the Autocrat from Benchmade Knives is the kind of tool you can depend on.